We have had a very busy year so far this year in 2022.  There was the birth of our two litters, The I Love Lucy pups in April to Hazel and Dundee and more recently our Summer Love pups born on June 22 from Audrey and Neo.  However, we have also been preparing the girls for our big National Specialty which will be taking place on Saturday, August 27 at the SD&G Dog show in Long Sault, Ontario.  Kay has also been out recently to a UKC event in Rockton, Ontario where she hit the ground running achieving a first place in group on her first show.  Dalia went with her and we had my granddaughter show Dalia in the Altered group.  We are looking forward to heading out to more shows this year now that things are more open.  Hopefully we will have a few more champions by the end of the season. 
As 2020 is (finally) ending, we are taking some time to reflect on the year that has just passed. Although a very different and unique year it was not what we had planned at all. We had plans of finishing titles, adventuring into agility competitions, and even a few more visits with friends, but instead, we got a lot of time with our dogs. It wasn't the worst year, there were a lot of great things to come from it. We a grateful for all the things we have, and are looking forward to next year. Hopefully, it will be a year full of gatherings, friendship and fun.
So from our family to yours, we wish everyone a very Happy New Year. May 2021 bring you all the best.
We are proud to announce that on Monday, September 28th, 2020, Audrey gave birth to four healthy puppies.  Mom and puppies are doing well.  All puppies are already reserved and have a loving home to go to.  The puppies have been steadily gaining weight throughout the week and are expected to double their birth weight by the end of the weekend.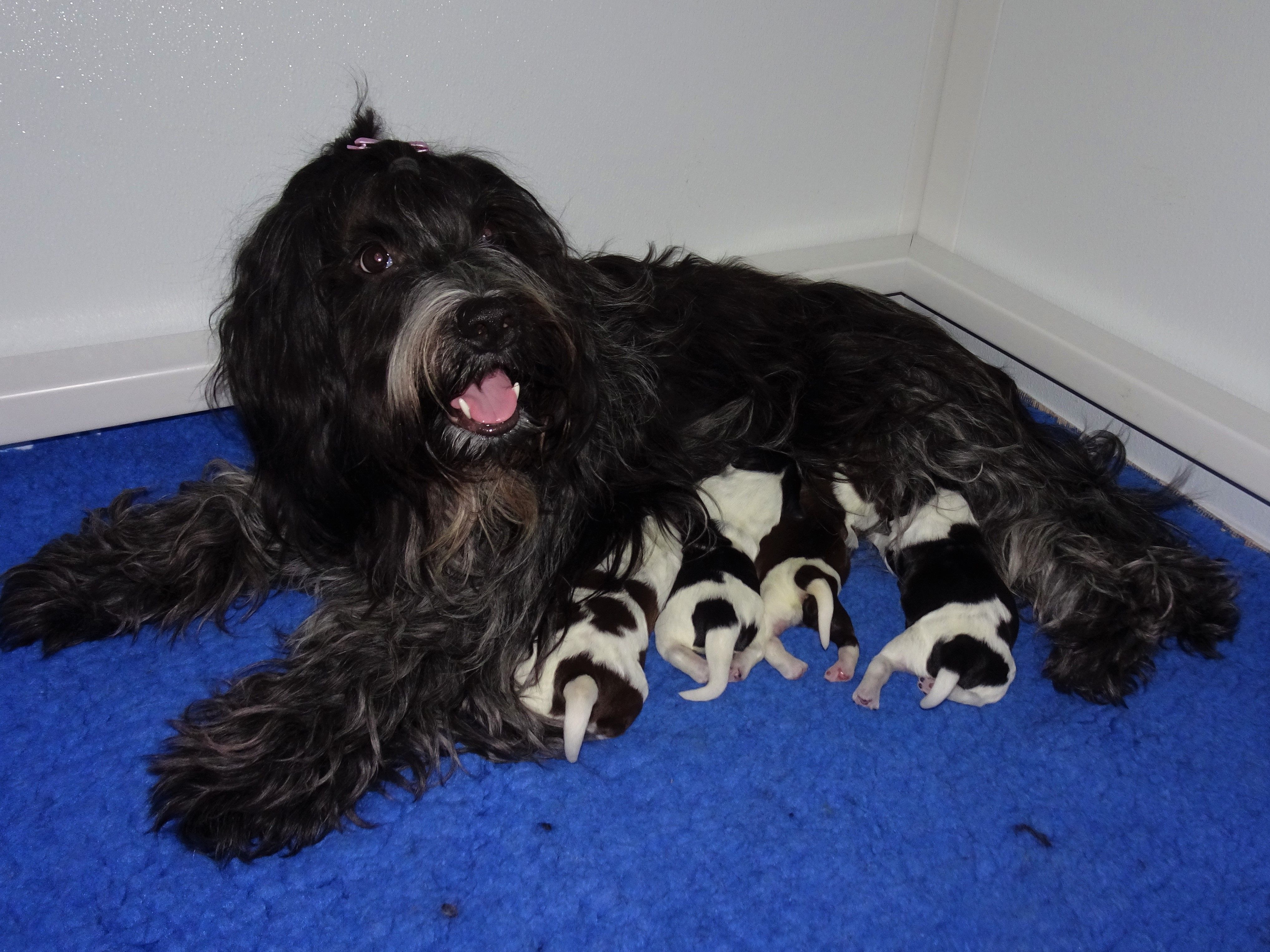 Well 2020 really hasn't been what we thought it would be.  With Covid19 shutting everything down, sadly there have been no events, dog shows or even places to go with the dogs in the last few months.  However, it does not mean we have not been up to anything.  All the girls are currently in training and are working towards earning their trick titles through Do more with your dogs. 
For a more up to date look at what we are doing, check out our Facebook page or our Instagram account.
We hope that everyone is staying safe in these uncertain times.  Take advantage of this time to hang out with your dogs and relax. 
2019 went out with a bang!  Both Nora and Hazel earned their Show Championship titles with the United Kennel Club, and their Canine Good Neighbours certificate.  Nora even earned her Show Championship title with the Canadian Kennel Club too.  These two young girls have gone far above our expectations. We were blessed with two gorgeous litters, one from Dalia and Merlot, and the other from Audrey and Jerrie.  All puppies are currently living with their families and are doing great. 
So what does 2020 hold for us, hopefully a lot more shows, some more training and of course a lot of time with our dogs.  We look forward to getting our girls out and hopefully making it to a few agility courses this year. 
On May 30th, 2019, Dalia gave birth to four beautiful girls and a very handsome boy.  Mom and all the puppies are doing well.
On August 6th Audrey blessed our family with 3 beautiful puppies, one handsome boy and 2 beautiful girls.  Mom and puppies are doing well.  We couldn't be more proud of these cute additions. 
On August 11th, Amanda and Ashley will be heading out with the young girls, Nora and Hazel, and Dalia to the Kilbride Dog Show for the Schapendoes booster.  Good luck to all who attend.
August 17th/18th the young girls, Nora and Hazel, will be attending the Grand River Kennel Club Show in Rockton.  This will be the first show that Hazel competes as a class dog and not a baby puppy.  Time sure does fly. 
Ashley and Amanda will be traveling to Quebec on September 21st to compete at the National Specialty during the Chomedey Kennel Club.  There will be other shows in between, but for the moment we have our hands full with all the puppies.